Welcome to the HLSA Black Alumni Network
The Black Alumni Network aims to foster community among Black alumni of Harvard Law School, to promote diversity at all levels of the legal profession, and to harness the collective power of this group for the good of society.

Stay Connected!

Interested in more info or looking to get involved?
Image Credit: Martha Stewart

---
Connect with the HLSA Black Alumni Network!

LinkedIn Group: Harvard Law School Black Alumni Network


Facebook Group: Harvard Law School Black Alumni Network
In honor of Jackie Berrien

On November 9, 2015, we lost our dear friend and classmate Jackie Berrien. As you know, Jackie dedicated her considerable talents and energy to paying it forward, working at the ACLU, the Lawyers' Committee for Civil Rights under Law, the NAACP Legal Defense Fund, and chairing the EEOC. Losing her was a blow in ways difficult to express fully. But, taking on the challenge her friend and colleague NAACP LDF Director Counsel Sherrilyn Ifill issued, we are working to make sure that Jackie's passing is not the end of her innumerable good works. To that end, we are raising funds to establish a scholarship in Jackie's name at Harvard Law School. Jackie was not only an alumna, she mentored students informally and formally, and inspired countless others to join her in working for social justice. The scholarship that we seek to fund will defray educational expenses for students following in Jackie's footsteps. Endowing the scholarship requires a minimum of $250,000.

Please join us in building this new fund to ensure that Jackie's legacy endures.

Sincerely,

Berrien Scholarship Planning Committee

Click here to learn more about Jackie Berrein

Click here to give online (Please be sure to select "Jacqueline Berrein Scholarship Fund")

Photo Credit: Equal Employment Opportunity Commission
Expand your network
Join the only official HLS Alumni LinkedIn Network
With 3,600+ alumni, Harvard Law School Alumni is the fasted growing and only official and secure HLS Alumni group on LinkedIn (open to alumni from HLS degree granting or equivalent programs, students, and current faculty). Join Today!
HarvardKey

HarvardKey is a secure login and password to streamline your access to several online alumni tools and benefits.
Visit

key.harvard.edu

to claim your HarvardKey today.
Need personalized help? Contact the HLS HarvardKey support line at +1 617-495-5631 or
alumrec@law.harvard.edu
.
Amicus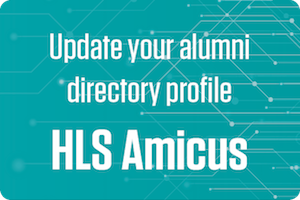 HLS Amicus is a community building tool, featuring an alumni directory, with advanced search and messaging capabilities.
Alumni Feedback
We want to hear from you...
Have a question about an upcoming event or an idea for an event you'd like us to put on? Interested in getting involved in the HLSA Black Alumni Network? Have any other feedback for us? Contact us at
info@blackalumninetwork.hlsa.org